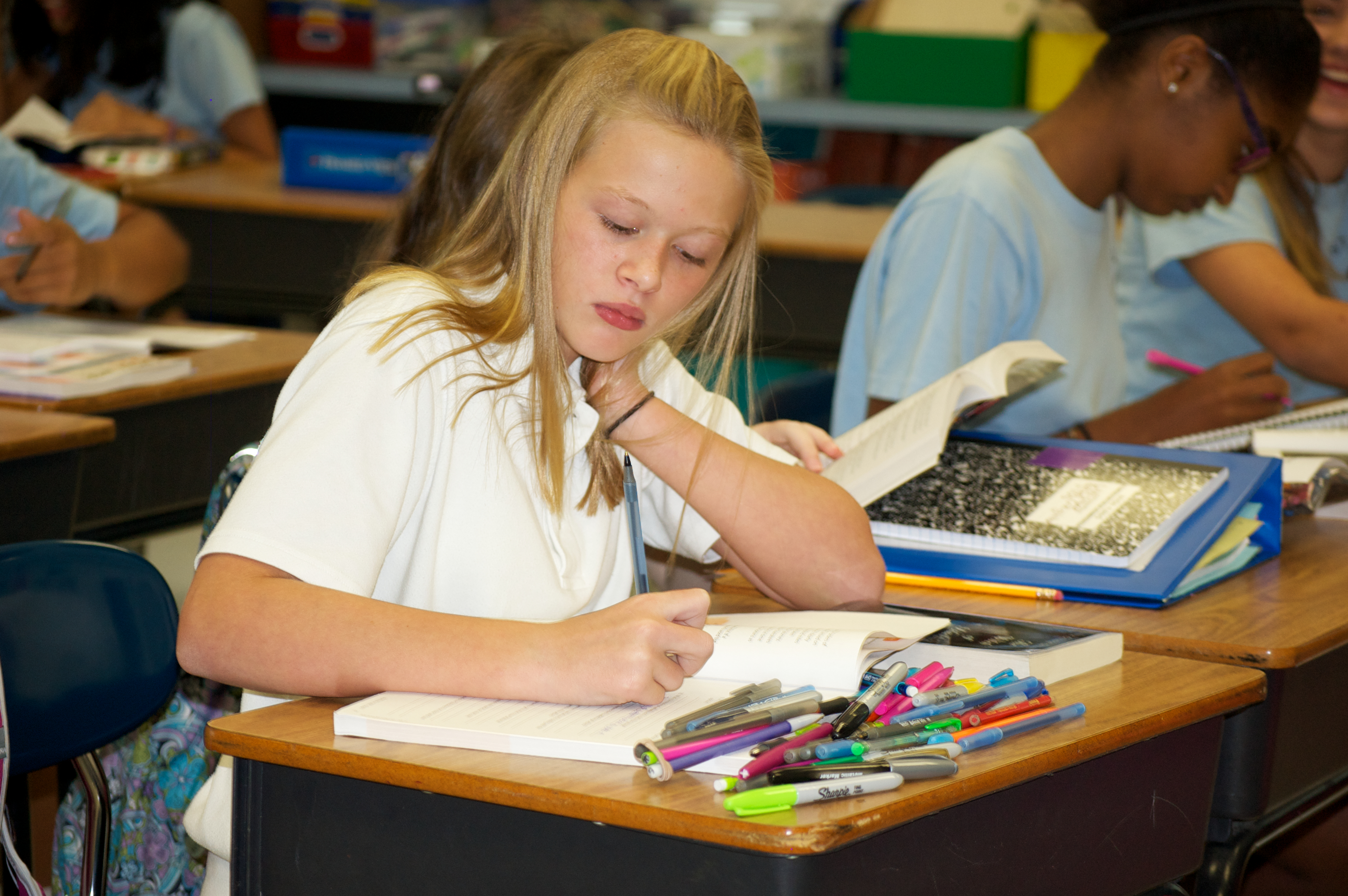 St. Louis Catholic School's assessment program is intended to assist teachers and administrators in a systematic evaluation of educational programs, to diagnose students' strengths and weaknesses, and to aid in revision of the curriculum and planning of instruction.
In addition to assessments designed for grading purposes, the school administers screening assessments and national standardized achievement tests as selected by the Diocese of Arlington.

St. Louis Catholic School students consistently score above the national percentiles and above or at the diocesan average percentiles in all areas. We are dedicated to using assessment data to drive instruction and to ensure that all students achieve their God-given potential.
Kindergarten Screening Assessment
- The Brigance Screener III Assessment is administered to all incoming kindergarten students during the spring prior to their entrance to St. Louis Catholic School. Students are assessed in basic fine and gross motor skills and early literacy skills and social interaction. The goal of the assessment is to determine each child's strengths and weaknesses and prepare for the upcoming school year to ensure success in Kindergarten.
PALS (Phonological Awareness Literacy Screening)
- PALS is the state-provided screening tool for Virginia's Early Intervention Reading Initiative (EIRI). The purpose of this screening is to assess our students' literacy skills and fundamentals and to reduce the number of children with reading problems by detecting problems early and providing small-group intervention. PALS is administered to students in grades PreK - 2 in the fall and spring of each school year.
HMH Math and Reading Inventory Assessment
- Students in K-2 are administered this online adaptive test three times per year to monitor and asses student growth and proficiency. With the data, teachers can compare readiness levels with instructional tasks to inform instruction. Both the reading and math inventory give teachers the information/data to create, implement, and adjust personalized instruction.
SCANTRON Standardized Assessment
- Scantron, a national online assessment program used by the Diocese of Arlington, is administered three times each year: September, January and May. The purpose of the September and January assessments is to identify student needs and to monitor progress. The Scantron assessment provides teachers and administrators with instant results which enable educators to adjust instruction and meet the needs of each student. The May assessment is used to measure student progress for the school year. Assessment scores provide teachers, administrators and Diocesan personnel diagnostic data that can be used in planning future instruction. The Scantron assessments are based on diocesan curriculum standard and are nationally norm-referenced.
Assessment of Catholic Religious Education (ACRE)
- This assessment tool, designed by the National Catholic Education Association, is administered to students in grades five and eight each year. Test scores provide school and diocesan personnel data regarding student understanding of basic doctrine as well as attitudes towards living the Catholic faith. Individual student scores are neither tracked nor reported back to parents.
Iowa Aptitude of Algebra Readiness Assessment
- Students in 6th and 7th grade are administered this assessment to provide the school with additional data for determining eligibility for enrollment in the Algebra program during their 7th and 8th grade years.
High School Aptitude Placement Test (HSAPT)
- All eighth grade students take the high school placement test in class during the school day on a date determined by the Diocese of Arlington (usually administered in early December). This data is used as part of the application process for placement in diocesan high schools. Eighth grade teachers review only the format and style of the high school placement test with their students.
Developmental Reading Assessment (DRA)
- Students in grades K-5 take the DRA in the Spring of each year to help provide information to the teachers regarding reading progress. The information gathered from the DRA helps the teachers identify student reading needs and provides recommendations for materials that are at appropriate student reading level.